Insects Word Scramble
Download free printable Insects Word Scramble PDF to print on letter size paper.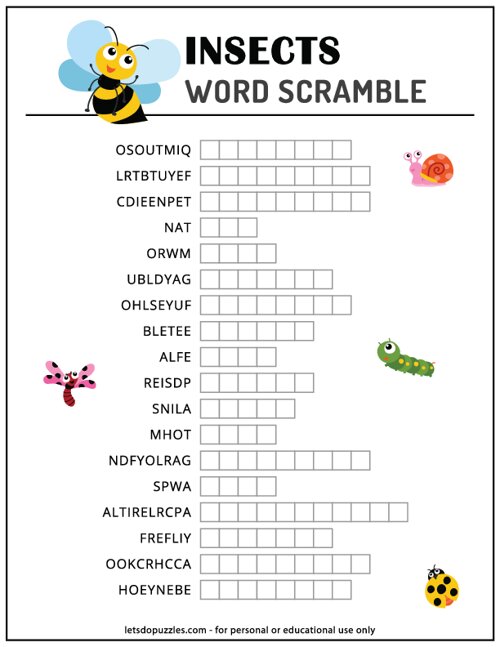 Insects are fascinating creatures that play a vital role in the ecosystem. There are over a million species of insects in the world, each with unique features and characteristics.
As insects can be a source of fear to some kids, it's essential to educate them about these beneficial creatures and the critical role they play in our environment.
That's why we have designed a fun and educational word scramble game that helps kids learn more about insects. This printable game is suitable for kids of all ages and can be used at home, in schools, or in any educational environment.
Here are the top reasons why you should try this fun and exciting word scramble game:
1. Boosts Vocabulary: By playing this word scramble game, kids will get to know new and curious names of insects, thus improving their vocabulary. They will learn the correct spelling of insect names, which helps in later writing skills.
2. Improves Memory and Focus: Kids will have to unscramble the words related to insects, improving their memory and enhancing their focus. It is an excellent exercise for kids to concentrate on a particular task for an extended period.
3. Enhances Problem-Solving Skills: This puzzle game will enable kids to think critically and use problem-solving skills to unscramble the letters. It helps in developing their logical thinking ability.
4. Encourages Learning: Playing this word scramble game will inspire kids to learn more about insects. Apart from just knowing the names, they will get knowledge about their habitat, features, and behavior, which will eventually help them understand their importance in the ecosystem.
5. Makes Learning Fun: This game is an engaging and interactive way to enhance knowledge about insects. The puzzle activity makes learning more fun and less like work, which makes it more enjoyable.
Playing educational games like this insects word scramble game is a great way for kids to learn in a fun and exciting way. It is interactive and engaging, boosts their vocabulary, improves memory, focus, and problem-solving skills, and encourages learning.
Looking for more insect activities? Check out this Set of 30 Bug Bingo Game Cards.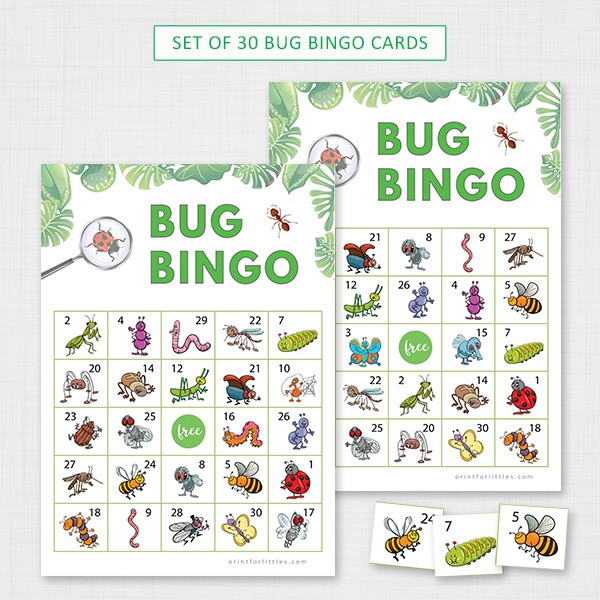 There are two sets of bingo cards in this set of 30 bingo cards - Full Size and Half Size
You can print one per page using Full Size and two per page with Half Size.