Insect Scavenger Hunt
Download free printable Insect Scavenger Hunt PDF to print on letter size paper.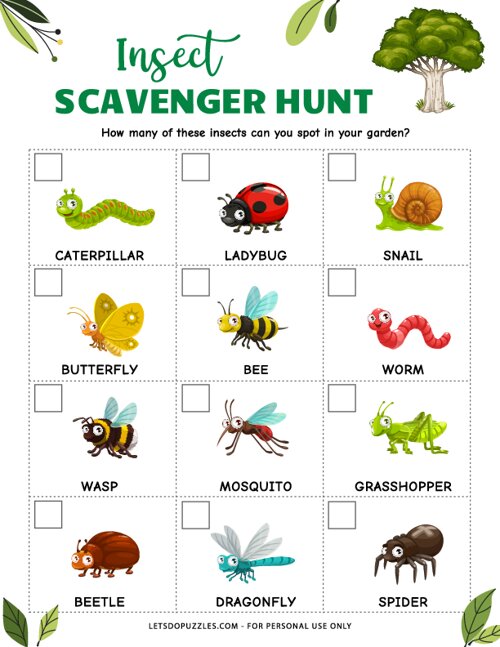 An insect Scavenger hunt is a fun and educational activity for kids. This printable list provides a great way to get kids outside and observe the many different types of insects that can be found in your backyard or local park.
As they search for each item on the list, they'll learn about the insect's appearance, habitat, and diet. This is such a great way to spend some time together, and an excellent opportunity to teach kids about insects' important role in our ecosystem.
So grab your net and head outside for some bug-hunting fun!
Benefits of insect scavenger hunt for kids
Insect Scavenger Hunt is a great way for kids to get outdoors.
It is a great way to learn about the local ecosystem and have fun at the same time.
By searching for insects, kids can learn about the different types of insects in their area and what they need to survive.
They can also learn about insects' important role in the ecosystem, such as pollination and soil aeration.
Insect scavenger hunts are an excellent opportunity for kids to get outside and explore their surroundings.
This can help them become more comfortable with nature and appreciate the beauty of the natural world.
Best of all, kids are bound to have a lot of fun doing it!