Solar System Crossword
Download free printable Solar System Crossword PDF to print on letter size paper.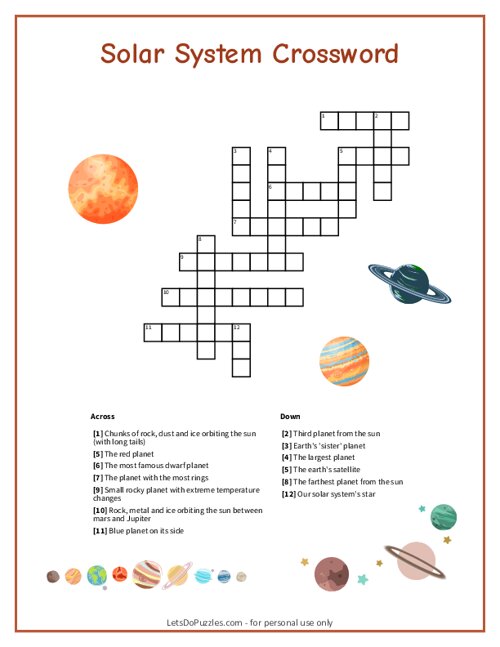 Download and print our free solar system crossword puzzle if you're looking for an educational and fun activity for the kids. It is packed with interesting facts about our planets and space in general.
With engaging illustrations and straightforward clues, it will keep them entertained while learning all sorts of new things. Download it now and get started on this fascinating galactic journey!
List of Questions:
Neptune : The farthest planet from the sun
Comet : Chunks of rock, dust and ice orbiting the sun (with long tails)
Moon : The earth's satellite
Mercury : Small rocky planet with extreme temperature changes
Jupiter : The largest planet
Pluto : The most famous dwarf planet
Uranus : Blue planet on its side
Saturn : The planet with the famous rings
Earth : Third planet from the Sun
Venus : Earth's 'sister' planet
Sun : Our solar system's star
Asteroid : Rock, metal and ice orbiting the sun between mars and Jupiter
Mars : The red planet