My Body Parts Crossword
Download free printable My Body Parts Crossword PDF to print on letter size paper.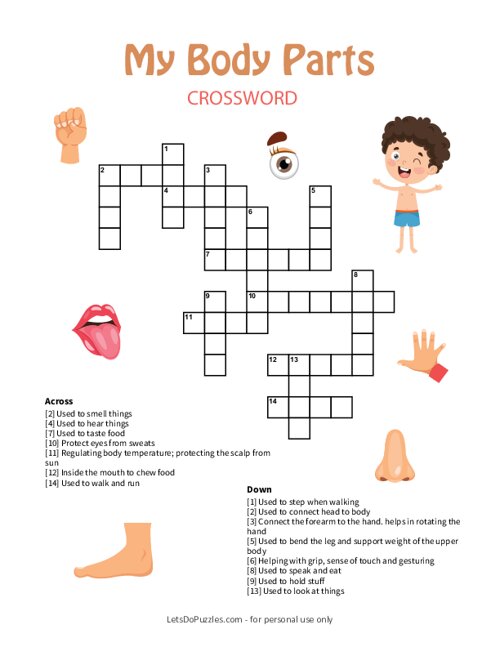 Teach children about the human body parts in a fun and interactive way with this Free Printable My Body Parts Crossword!
Engage your children in creative activities and help them learn about human body parts at the same time! With the clues provided at the bottom of the crossword grid, your kids will be able to develop their logical skills as they think of words that apply to each clue.
Not only is this an excellent way for children to learn, but it will also bring endless hours of fun! Download and print your copy today!
Are you looking for more similar activities?
Check out this Set of 30 Body Parts Bingo Game Cards.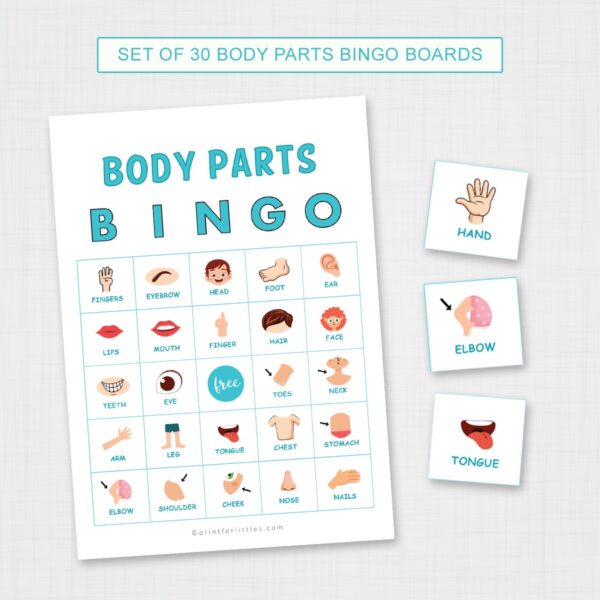 There are two sets of bingo cards in this set of 30 bingo cards - Full Size and Half Size
You can print one per page using Full Size and two per page with Half Size.
List of Questions:
Wrist : Connect the forearm to the hand. helps in rotating the hand, Ears : Used to hear things, Feet : Used to step when walking, Eyes : Used to look at things, Legs : Used to walk and run, Mouth : Used to speak and eat, Finger : Helping with grip, sense of touch, and gesturing, Tongue : Used to taste food, Hand : Used to hold stuff, Hair : Regulating body temperature; protecting the scalp from the sun, Neck : Used to connect the head to the body, Knee : Used to bend the leg and support the weight of the upper body, Eyebrow : Protect eyes from sweats, Teeth : Inside the mouth to chew food, Nose : Used to smell things