Verbs Crossword
Download free printable Verbs Crossword PDF to print on letter size paper.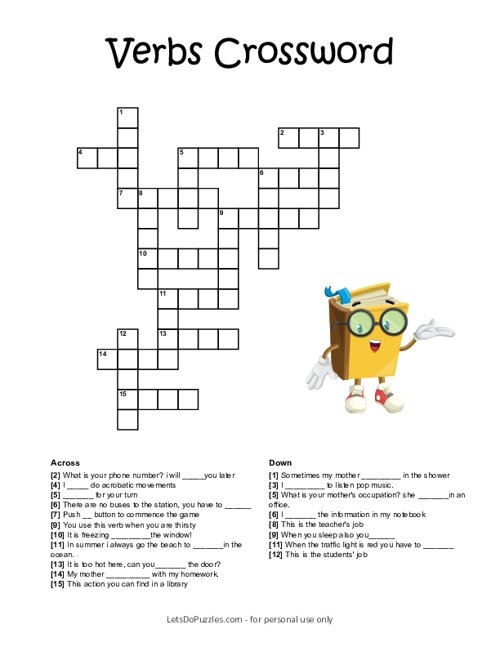 Our free printable verbs crossword is a fun and educational activity to keep your little ones occupied! This interactive puzzle is perfect for children looking to expand their vocabulary knowledge and will have them absorbed in fun-filled learning in no time.
Not only will they be challenged by the words included, but they'll also practice problem solving and analytical skills as they solve the crossword.
With an easy to download and print PDF, they can get started right away. So encourage your kids with a stimulating crossword.
List of Questions:
Close : It is freezing _________the window!, Dream : When you sleep also you______, Swim : In summer i always go the beach to _______in the ocean., Teach : This is the teacher's job, Work : What is your mother's occupation? she _______in an office., Sings : Sometimes my mother _________ in the shower, Wait : _______ for your turn, Read : This action you can find in a library, Learn : This is the students' job, Stop : When the traffic light is red you have to _______, Start : Push __ button to commence the game, Help : My mother __________ with my homework., Drink : You use this verb when you are thirsty, Call : What is your phone number? i will _____you later, Walk : There are no buses to the station, you have to ______, Like : I _________ to listen pop music., Open : It is too hot here, can you_______ the door?, Can : I _____ do acrobatic movements, Write : I _______ the information in my notebook