Fathers Day Word Search
Download free printable Fathers Day Word Search PDF to print on letter size paper.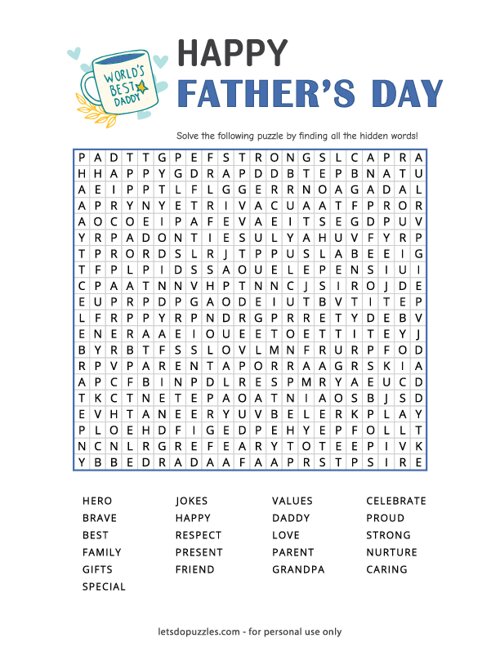 Father's Day word search is a fun and engaging activity that kids of all ages can enjoy. It is a great way to celebrate Father's Day and spend quality time with your kids or students.
The word search includes words related to fatherhood, such as best, nurture, respect, and family. Playing word search can be a great way to improve vocabulary, cognitive, spelling, and problem-solving skills.
Give your kids a fun and interactive way to celebrate Father's Day with this free printable word search.
Happy Father's Day!
Word list:
Best, Brave, Caring, Celebrate, Daddy, Family, Friend, Gifts, Grandpa, Happy, Hero, Jokes, Love, Nurture, Parent, Present, Proud, Respect, Special, Strong, Values
To download and print, simply click on the download button. The word search is available in PDF format, easily printed from your home printer or a local print shop. The solution to the word search is also included.