American Holidays Word Search
Download free printable American Holidays Word Search PDF to print on letter size paper.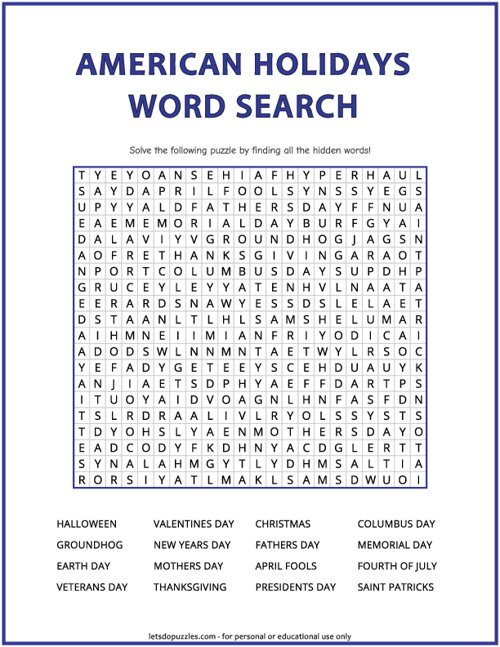 Keep kids occupied and engaged with a fun, educational American Holidays word search! This free resource is easy to download and print.
Busy parents will love this excellent problem solving tool where they can stay busy for hours looking for US holidays hidden in the grid.
Teachers can also use this word search to keep kids focused in class. Get your little ones excited about learning about national holidays! Download our free printable American Holidays Word Search today and surprise kids with their favorite puzzles.
American Holidays Word Search Puzzle Words List
Here's the list of the words included in this Word Search.
April Fools Day, Christmas, Columbus Day, Earth Day, Father's Day, Groundhog Day, Halloween, Independence Day, Memorial Day, Mother's Day, New Year's Day, President's Day, St. Patrick's Day, Thanksgiving, Valentine's Day, Veteran's Day
Such printable puzzles for kids are a fun way to strengthen vocabulary and learn new words about popular American Holidays.
American Holidays Word Search