Groundhog Day Word Search
Download free printable Groundhog Day Word Search PDF to print on letter size paper.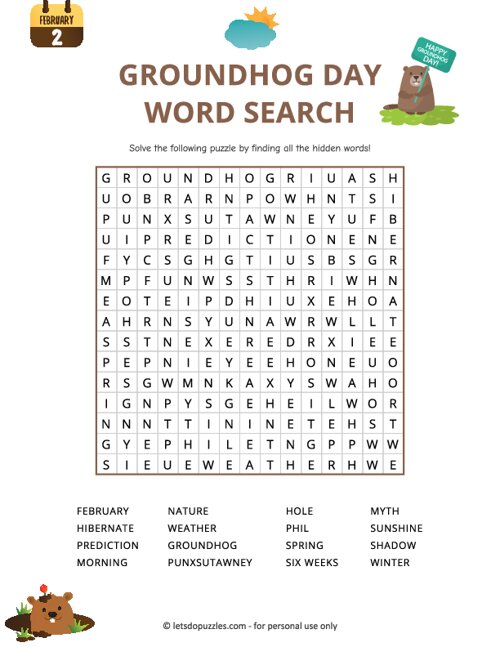 Groundhog Day Word Search is perfect for playing on Groundhog Day. Kids will enjoy finding the words (related to Groundhog Day) hidden in this 15x15 grid.
What is Groundhog Day
The groundhog is a rodent known as a marmot in North America. They live in burrows underground and hibernate during the winter months, making them unique from other rodents who don't hibernate.
On February 2nd each year, people gather together to see if they can spot their shadow or not. This tradition has been around since 1887. Punxsutawney Phil first predicted how long winter would last based on whether he saw his shadow or not after emerging from his burrow on this day.
People use this information to predict how long winter will last before spring arrives (and hopefully warmer weather!).
How to play Groundhog Day Word Search
To play this Word Search, you will need this printable Word Search puzzle, Pens or Pencils, and snacks to munch on while everyone tries to solve this fun puzzle.
Pass the printable sheets to players, along with pen or pencil.
Set the timer to the time everyone agrees. Start it when everyone is ready.
Ask them to find the words listed at the bottom of these sheets. These are the words related to Groundhog Day.
First person to find all the words in the grid wins!
Groundhog Day Word Search Puzzle Words List:
February, Groundhog, Hibernate, Hole, Morning, Myth, Nature, Phil, Prediction, Punxsutawney, Shadow, Six Weeks, Spring, Sunshine, Weather, Winter
Such Word Search Puzzles help recognize word patterns while solving word problems. Homeschooling parents and teachers will especially love this Groundhog Day Word Search Puzzle and can use this in the classroom or home.
The finished size of this printable is 8.5x11 inches, so it prints conveniently on letter size paper. Download, print, and enjoy.
Groundhog Day Word Search