Fall Word Sudoku for Kids
This Fall Word Sudoku is perfect to encourage problem solving and critical thinking in your elementary students. They will enjoy figuring out the missing words associated with Fall and Autumn to solve these Sudoku puzzles.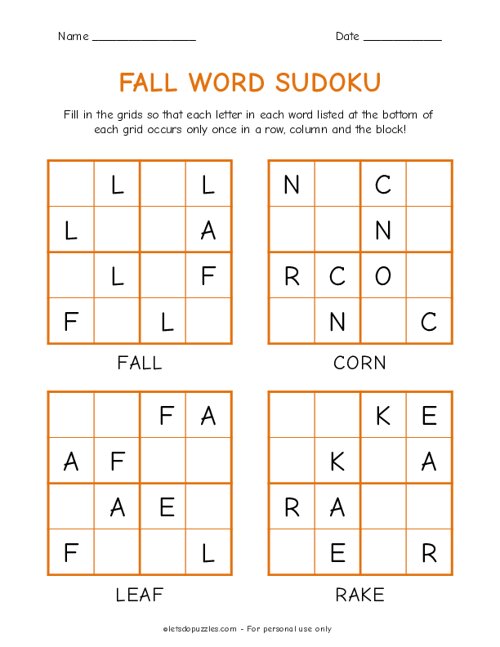 These printable Fall Word Sudoku for Kids worksheets are perfect for Kindergarten and Preschool kids to help strengthen their vocabulary and logical skills.
Little ones solve these Sudoku by filling out the missing letters - FALL, CORN, LEAF and RAKE.
They must fill each letter of these words so that each letter appears only once in in each row, column and block.
Teachers and homeschooling parents can use these Fall Word Sudoku puzzles in their classroom or at home to help kids learn about alphabets.
There are 4 Sudoku puzzles per page, and each has 4x4 grid that is easy to solve for kids. These are to be printed on standard letter size paper so can be conveniently printed at home.
Please note that all the freebies are for personal use only and should not be distributed by any means. You cannot sell the product itself or the printouts.

Please feel free to link back to this page when sharing on website or blog posts or use the hashtag #letsdopuzzles when sharing on instagram or other social media sites.
To convert PDF files into JPG or PNG, check this online File Format Converter tool, and for unzipping the compressed zip files, try this online Unzip tool.