Super Bowl Word Scramble
Download free printable Super Bowl Word Scramble PDF to print on letter size paper.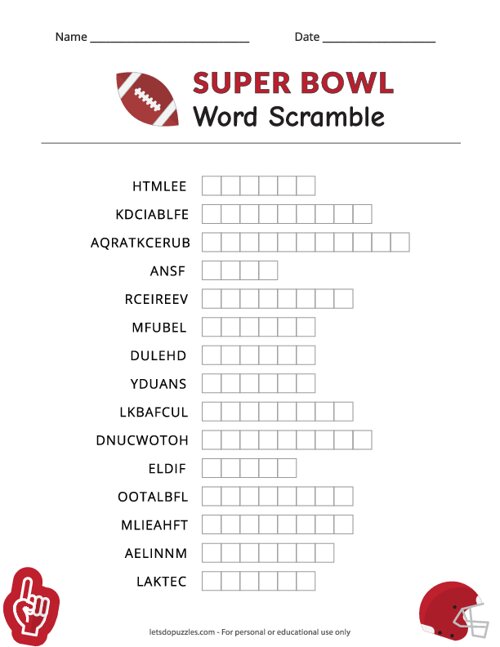 Do you have Football Lovers at home?
Super Bowl Word Scramble puzzle is the perfect game for you to download and print! Kids will enjoy solving this puzzle by unscrambling the words related to Super Bowl.
You can use your knowledge of football to unscramble words related to the big game. It's a fun way for kids to build vocabulary and learn new things about a topic that your family already enjoys.
Benefits of playing Super Bowl Word Scramble
Such puzzles are especially great for kids. The more time they spend playing these puzzles, the better they become at spelling and reading. Children that play such educational games are likely to develop early literacy skills and become lifelong learners.
How to play Super Word Scramble?
It's a great way to get your child excited about learning and it's also a lot of fun! This is an interactive and engaging game that will keep them entertained while they learn new words, practice their spelling skills, and have fun playing games.
These puzzles are easy enough for young children but challenging enough to keep older kids interested as well.
To play this game, all you have to do is download and print these printable sheets (download at the end of this post), distribute them among players, along with pens or pencils.
Set the timer and tell everyone to start as soon as they are ready. Players have to unscramble these Super Bowl words. The person who unscrambles these words correctly in the shortest amount of time wins!
Printable Super Bowl Word Scramble
This Puzzle is the perfect way to spend some quality time together on Super Bowl Sunday. Make it a memorable one with these Super Bowl Activities.