Spring Crossword
Download free printable Spring Crossword PDF to print on letter size paper.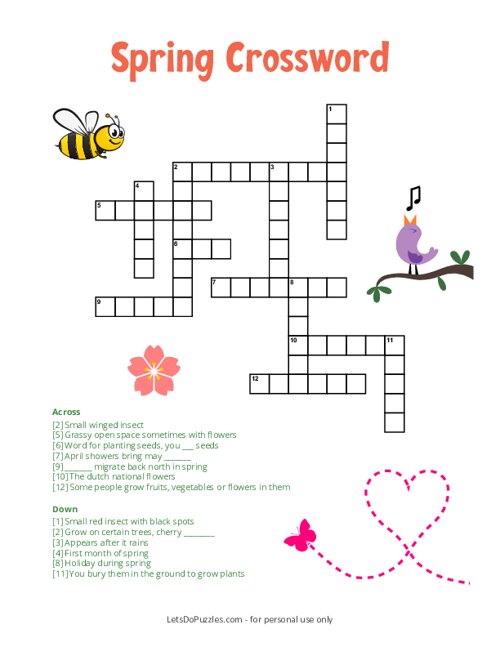 With spring upon us, Spring crossword is a perfect way to bridge the gap between the end of a busy school year and summer activities.
It is a fun and educational way for kids to develop their vocabulary skills leading up to summer break. Parents can easily download and print these crossword games for their children to have brain-boosting fun!
Keep your children's minds engaged to the very end of the school year, ensuring that all their hard work in class pays off.
List of Questions:
March : First month of spring, Rainbow : Appears after it rains, Butterfly : Small winged insect, Sow : Word for planting seeds, you ___ seeds, Seeds : You bury them in the ground to grow plants, Ladybug : Small red insect with black spots, Birds : _______ migrate back north in spring, Meadow : Grassy open space sometimes with flowers, Blossoms : Grow on certain trees, cherry ________, Easter : Holiday during spring, Tulips : The dutch national flowers, Garden : Some people grow fruits, vegetables or flowers in them, Flowers : April showers bring may _______