Noah's Ark Crossword
Download free printable Noah's Ark Crossword PDF to print on letter size paper.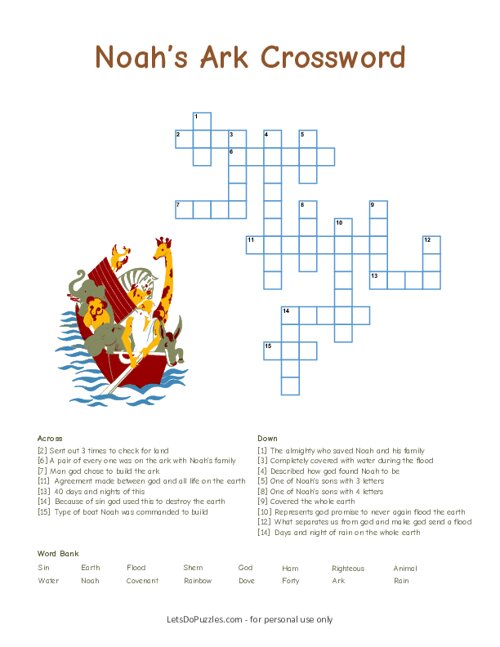 Let your children take a journey on Noah's Ark with this fun and free printable crossword! Sure to keep kids entertained on a rainy day, this crossword helps to broaden their vocabulary and promotes interactive learning.
Young minds will find the subject both stimulating and thought-provoking as they attempt to figure out the clues and fill in the correct answers. With its calming colors and simple design, parents can be sure that children of all ages will enjoy this educational activity.
List of Questions:
Sin : What separates us from god and make god send a flood, Earth : Completely covered with water during the flood, Flood : Because of sin god used this to destroy the earth, Shem : One of Noah's sons with 4 letters, God : The almighty who saved Noah and his family, Water : Covered the whole earth, Noah : Man god chose to build the ark, Covenant : Agreement made between god and all life on the earth, Rainbow : Represents god promise to never again flood the earth, Dove : Sent out 3 times to check for land, Animal : A pair of every one was on the ark with Noah's family, Righteous : Described how god found Noah to be, Ark : Type of boat Noah was commanded to build, Forty : Days and night of rain on the whole earth, Ham : One of Noah's sons with 3 letters, Rain : 40 days and nights of this