Adjectives Crossword
Download free printable Adjectives Crossword PDF to print on letter size paper.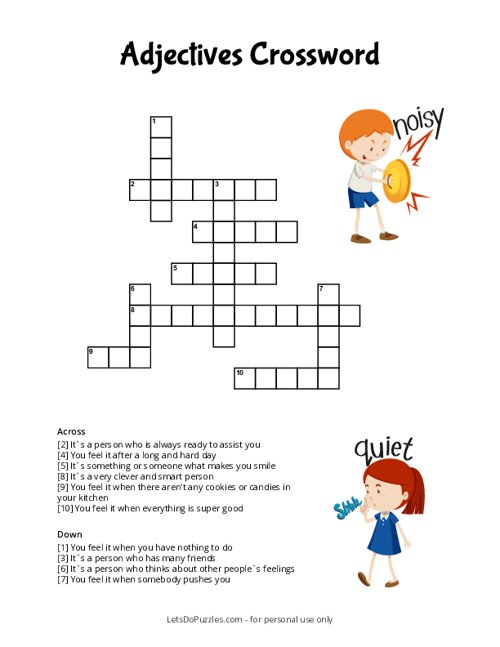 Free Printable Adjectives Crossword is an educational and great way to teach children about adjectives in an enjoyable way.
These crosswords provide a fun problem-solving activity for kids. They have to use their logical thinking skills to figure out what goes in the grid, which can help them learn more about English vocabulary.
Download and print today. You'll be amazed at what little ones can learn from an educational yet fun activity like this.
List of Questions:
Bored : You feel it when you have nothing to do, Kind : It's a person who thinks about other people's feelings, Intelligent : It's a very clever and smart person, Helpful : It's a person who is always ready to assist you, Angry : You feel it when somebody pushes you, Funny : It's something or someone what makes you smile, Happy : You feel it when everything is super good, Friendly : It's a person who has many friends, Sad : You feel it when there aren't any cookies or candies in your kitchen, Tired : You feel it after a long and hard day